JC Fences & Decks

Fencing

Highest quality vinyl, wood, wrought iron, and custom fabricated fencing.

JC Fences & Decks

Railing

Clear Green Redwood, B grade Redwood,Con Heart Redwood, Ipe,Mangaris,Evergrain,Cedar, Timbertech, Trex.

JC Fences & Decks

Decking

Exotic hardwoods, cedar, and co-extruded deck products from Trex, Azek, Fiberon and Timbertech. Everything to make your Marin deck a success.

JC Fences & Decks

Wooden Decks

A wood deck adds elegance, character, and comfort to any back yard design in addition to a classic look.
Welcome to
JC Fences & Decks

Wooden Decks & Fences Installation in Marin County
Do you need a new fence at your property in or around Marin County, CA? Is your fence starting to look a little worse for wear? Hire a fence contractor with 20 years of experience in the industry to complete the fencing work you need. JC Fences & Decks started in 2002 as a family owned and operated fencing company, and our family is dedicated to providing only the best service.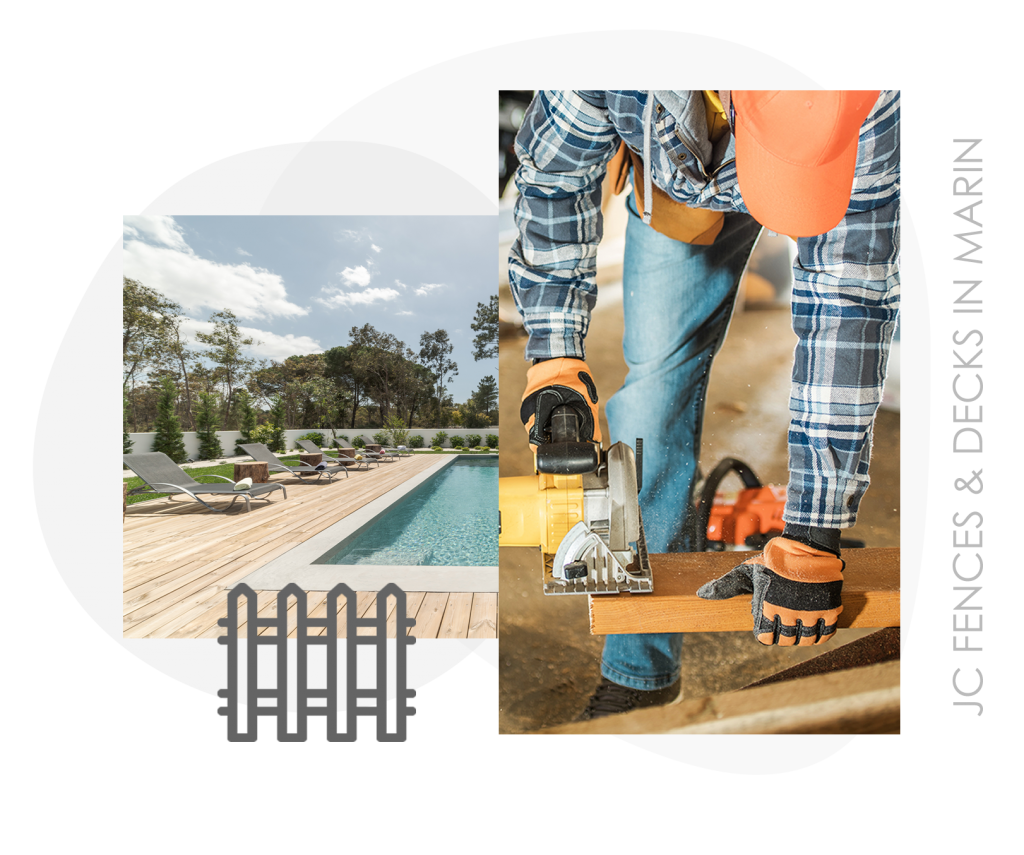 Marin Fences & Decks Installation
Natural Wood or Composite Decks?
Building a deck is like adding a new room to your home. It is an exciting adventure but there are limitless possibilities that can seem overwhelming at times. We work with our clients to choose the best decking materials and types of decks for your home.
The standard American classic, a natural wood deck is the most popular choice for homeowners. It is typically less expensive to go with natural wood up front, unless you use a rare type of wood that costs more per square foot. The trade off for the lower cost to build a wood deck, however, is the cost of maintaining it. Wood is susceptible to rotting and warping with age, and needs to be resealed annually to keep it in like-new condition.
Manmade materials such as Azek, Timber Tech, fiberglass, or Trex decks come in a variety of finishes that can match the look of any type of wood. Artificial deck materials are more costly initially than wood, but don't require ongoing maintenance like wood does. As installation is complete, what you see is what it will look like for the life of the deck. It should be washed regularly, but you'll never have to reseal or refinish it. 
So which one is right for you? It depends on several factors, such as whether the deck will be in a sunny or shaded area, and how much traffic and use it will have. Give us a call or fill out the quote form at the top of the page to have one of our professional deck contractors help you decide which type is best for your home. 
JC Fences & Decks provides high quality fence installation and repair services throughout the Marin County area. We deliver high quality fences at affordable rates. It would be our pleasure to serve you and prove to you why we're the premier Fencing and Deck Contractor in Marin. So give us a call today and we'll get you a great deal on your new fence! Or you can fill out the free quote form found below and we'll get in touch with you right away.
Fences & Decks in Marin County
Fences & Decks in Marin County
YOUR FRIENDS AND FAMILY WILL LOVE YOUR NEW DECK
Crafted with love, we truly enjoy what we do and it shows
Decks, fences and railings help you to enjoy the time you spend in your home, we love being apart of making your leisure time a relaxing and fulfilling experience for you. From start to finish we want this to feel like a great way to allocate your home improvement dollars.
We strive for sustainability and can help you make supportive decisions.
Trex, Timbertech, Azek and Fiberon are great recycled and cellular PVC decking solutions. We also can show you a variety of sustainably harvested hardwood deck materials. Longevity is an important part of maintaining a small carbon footprint, all of our materials have long service lives saving you money too.
JC Fences and Decks wants to provide our community with high quality installation and quality materials at a fair price.
We are a small enough company that we work closely with every installation and have our reputation stamped on each job. Years of experience and training have allowed us to bring installation to a higher level of efficiency, which transfers to our family of customers in the form of quality installation and less labor costs.

Choosing a company that has your best interests in mind can be difficult until you call a representative from JC Fences and Decks.
We listen to your concerns and needs, suggesting the many or few options that will meet your needs and style.
available from 8:00 AM – 5:00PM
Address 3330 Kerner Blv., San Rafael, CA, 94901
Email:  jcfencesndecks@gmail.com